WoMin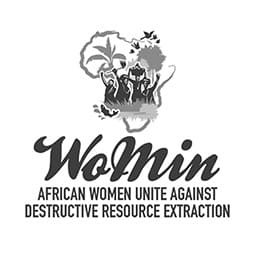 ---
Actor: NGO | Region: Africa
WoMin, an alliance of organisations that span the African continent, works alongside national and regional movements and popular organisations of women, mining impacted communities and peasants, and their solidarity partners, to make visible the impacts of extractivism on peasant and working class women. Together with partners situated from the local to the international, WoMin works to counter the destructive impacts of extractivism such as land grabbing and displacement of communities, pollution and erosion, and violence against women, and, critically, to advance a women-centred and just development alternative.
"GAGGA is a critical global alliance of organisations and movements working on the new front of women's rights and environmental justice. We see this as such an important learning and advocacy space, bringing local women's struggles to a worldwide audience."
Contact: margaret.mapondera@womin.org.za
Website: womin.org.za
Twitter: https://twitter.com/WoMin2015
Facebook: WoMin- African Women Unite Against Destructive Resource Extraction
---
Subscribe to our newsletter
Sign up and keep up to date with our network's collective fight for a gender and environmentally just world.