November 2023 Newsletter | GAGGA At COP28: Advocating for the Voices on the Frontlines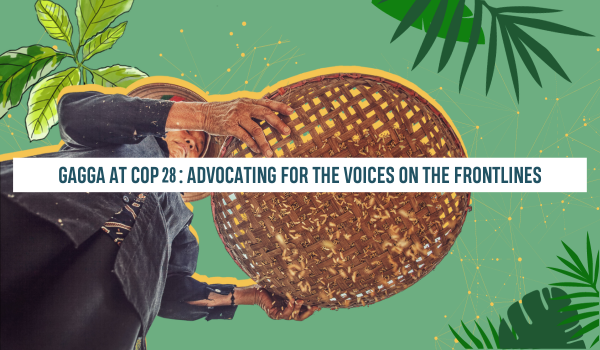 ---
As global leaders convene for the much-anticipated COP28, there exists an undeniably urgent necessity: the incorporation of grassroots voices into the very fabric of our global climate solutions. This imperative is particularly heightened for the voices of women, girls, trans, intersex, and non-binary people, as well as structurally marginalized communities including Indigenous, Afrodescendant, rural, and young women.
At the heart of this call to action lies GAGGA's commitment. Our presence at COP28 is driven by a singular vision to magnify the advocacy messages emanating from our partners, ensure their dynamic involvement, and ardently champion funding initiatives tailored for gender just climate solutions.
Yet, our advocacy journey at COP28 is not without its challenges. The appointment of Sultan Al Jaber as the president of COP28 signals worrying precedents. The very figurehead steering the Abu Dhabi National Oil Company, a prominent player in global fossil fuel expansion, his leadership is indicative of a shift towards corporate interest rather than genuine climate goals. However, we remain dedicated to advocating for community-driven solutions and challenging this overt monopolization of power.
In our journey towards more inclusive climate solutions, the narratives and lived experiences of our partners play a pivotal role. Through our #GAGGAatCOP28 campaign, we're not merely presenting a collection of stories, but weaving a powerful narrative that underscores the urgency and importance of women's led grassroots action at global forums like COP28.
For instance, the story of 350.org reminds us of the intricate intersections of gender and environmental justice, shedding light on the myriad ways local challenges are deeply entwined with larger environmental issues. Casa Socio-Environmental Fund offers a lens into community-driven environmental solutions that resonate with the unique gender perspectives of different communities. The voices from Consejo de Mujeres Indígenas y Biodiversidad (CMIB) elucidate the resilience of Indigenous women, their sacred bond with nature, and their reservoir of knowledge in biodiversity conservation. Similarly, the International Indigenous Women's Forum (FIMI) spotlights the transformative role of Indigenous women's leadership in shaping effective and grounded climate strategies.
Moving to the African continent, the Kebetkache Women Development & Resource Centre plays a seminal role in the African Women's Climate Assembly, focusing on "building power outside of COP." Their efforts emphasize that real change often emanates from outside traditional power structures, from the grassroots, and from communities that bear the brunt of environmental degradation. The narrative of Patinaai resonates with the voice of Maasai women, emphasizing the need to harmonize global environmental ambitions with the realities these women face daily. Meanwhile, SERUNI offers a testament to Indonesian women's tenacity, emphasizing that the fight for gender justice and environmental sustainability are two sides of the same coin.
Our #GAGGAatCOP28 campaign aims to ensure these stories, these struggles, and these solutions are central to discussions at COP28. Through these narratives, we aspire to underscore that genuine climate solutions are rooted in the experiences and wisdom of those directly affected by the crisis. And as we move forward, it's these voices and actions that should guide our collective path.
---
Subscribe to our newsletter
Sign up and keep up to date with our network's collective fight for a gender and environmentally just world.