Six feminist consortia call on the Dutch government to increase support for gender equality and women's rights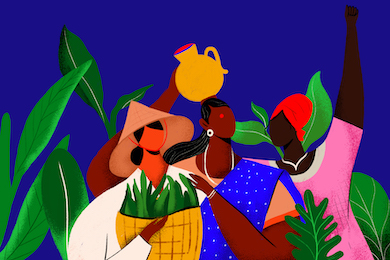 ---
As women's rights advocates face the closing of civic space, a rise in gender-based violence amid the pandemic, and increasingly misogynistic and militarized environments, government actors such as the Netherlands must recognise the urgency in strengthening their leadership role on gender equality and women's rights.
That's why the Global Alliance for Green and Gender Action (GAGGA), along with five other feminist consortia funded by the Dutch Government, is calling for the country's new Minister of Foreign Trade and Development Cooperation, Liesje Schreinemacher, to be a bolder donor and ally to women's rights organisations in the Global South. In a letter signed by Count Me In!, GAGGA, Love Alliance, Our Voices, Our Futures, Power Up!, and Women Gaining Ground, the consortia highlighted recommendations for the Dutch ministry's new Foreign Trade and Development Cooperation policy. GAGGA also independently submitted input to the policy through the ministry's online consultation.
The Dutch government has already taken a big step forward with its recent commitment to a feminist foreign policy on 13 May. We believe the implementation of this political framework is key to greater policy coherence and a stronger commitment to gender equality, and GAGGA looks forward to participating in meaningful consultations on its development.
However, there is more work to be done. We call on the minister to go further and build on the Dutch government's crucial work by considering the following:
Ensure that gender equality and women's rights is both a stand-alone theme and applied as a cross-cutting dimension in all policy areas, at all levels.
Continue increasing investments in gender equality as a principle and funded goal.
Actively engage Global South-based organisations and consortia throughout policy-making processes.
Be a bolder donor and actively engage communities in funding and investment decisions that affect them.
Achieve policy coherence for sustainable development.
Read the full recommendations in the letter here and in GAGGA's online consultation input here.
---
Subscribe to our newsletter
Sign up and keep up to date with our network's collective fight for a gender and environmentally just world.