In 2021, GAGGA's network consisted of 16 women's funds, 8 environmental justice funds, 28 NGOs and 390 grassroots groups in 39 countries. Since 2016, we have provided over €12.04 million in 1,742 grants to mainly women-led community-based organizations through our global network.
We also offer non-financial support such as mutual capacity strengthening through workshops, exchanges and access to information; joint lobby and advocacy; and facilitating connections.
You can learn more about GAGGA partners' work below.
Solidaritas Perempuan and the fisherwomen of Indonesia
Coastal women across Indonesia, in parts of Jakarta, Sulawesi and Sumatra, are traditionally excluded from policy dialogues, decision-making processes and research. Even though women play a crucial role in the local fishing industry (by repairing nets, processing fish and collecting shrimps, crabs and other shellfish), only households headed by a fisherman are considered fishing households. In 2019, the network organization Solidaritas Perempuan supported 120 women in increasing their critical awareness of the gendered impacts caused by the National Capital Integrated Coastal Development project in Jakarta and land reclamation in Makassar through Feminist Participatory Action Research. This process enabled the women to identify the women's rights violations that they were experiencing and provide evidence-based information and recommendations for their advocacy efforts towards local government, members of parliament and the press. This process also created a safe space for these women to connect, share their grievances, build solidarity and strengthen their identity as "fisherwomen."
Women in El Salvador are ensuring the recognition of water as a human right
As part of GAGGA, Colectiva Feminista para el Desarrollo Local in El Salvador received financial support, accompaniment on women's leadership and institutional strengthening, and the opportunity to participate in exchanges with other groups and collectives in Central America on environmental justice, eco-feminism and sustainable community-led water management. This contributed to their plans of carrying out a public referendum in Suchitoto municipality on the human right to water. As a result, Suchitoto officially became the first municipality in El Salvador to recognize drinking water as a human right. The organization is now working with authorities and other local actors to put this law into practice for the population of Suchitoto.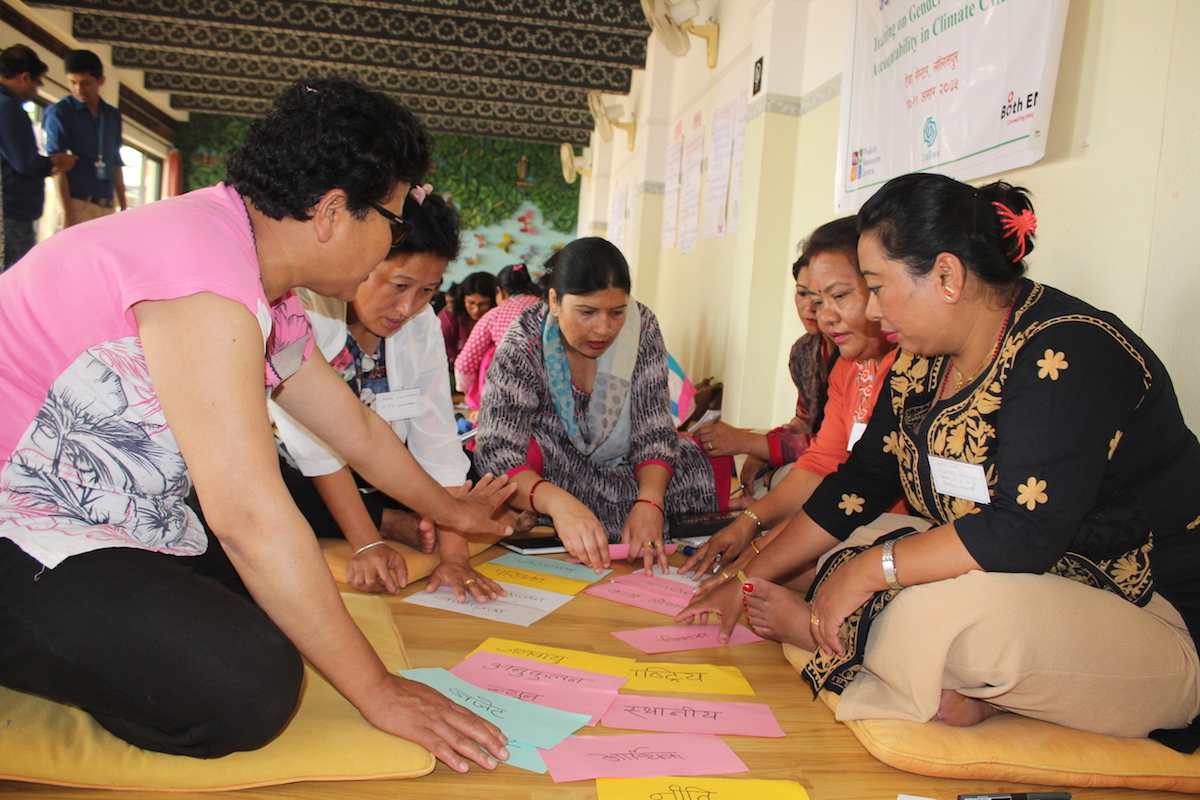 Nepalese women lead advocacy for climate and gender justice
In Nepal, Prakriti Resources Centre (PRC) and Tewa provide training to local women's groups on climate change and opportunities for accessing funds from local government authorities to support their gender-responsive climate actions. These trainings have helped local women's groups to advocate towards local authorities, often for the very first time, and in some cases secure funds for disaster preparedness, river conservation and organic fertilizer production. Some municipalities in Nepal are now addressing gender, climate change and environmental issues in their own programs. Meanwhile, PRC and TEWA, as part of an informal national CSO coalition, have successfully continued lobbying and advocating at the national level. This national CSO coalition and other actors were able to contribute to the formulation of the 2019 National Climate Change Policy, which now includes gender and social inclusion as a major cross-cutting area in climate change adaptation and mitigation programs. This provision was not there in the 2011 version of the policy.
Women Action Towards Entrepreneurship Development (WATED) in Tanzania
Following different workshops provided by WATED to local women's and environmental justice groups in five counties of Tanzania in 2018, in 2019 WATED organized a national symposium with these groups, the senior gender representatives of the Ministry of State for Union and Environment and the Parliament's Environmental Committee, regional and local government authorities, GCF Accredited Entities and the Tanzanian National Designated Authority. WATED is a recognized actor on climate finance and an important link between local groups and national GCF discussions and international networks. Through their work, they consolidated a continuously growing national GCF CSO network and were invited to explore possible collaborations to solicit GCF funding with Accredited Entities active in Tanzania.
CCIMCAT and the women of Villa Montes, Bolivia
In the municipality of Villa Montes in Bolivia, when water resources provided by the government are used up, it is the women, girls and youth of the local communities who are responsible for walking two to three hours to the closest river to fetch water. Through close collaboration with the organization Centro de Capacitación e Investigación de la Mujer Campesina de Tarija (CCIMCAT), the women of Hucareta village collectively developed and proposed a municipal law called "Agua Fuente de Vida (Water Source of Life) Nº234" for the protection, conservation and provision of water as a human right. Dialogues and meetings between women's organizations and the municipality pushed the local municipality to pass the proposed law on July 5th, 2019, becoming a precedent at the national level.