GAGGA voices on COVID-19: Alternative economies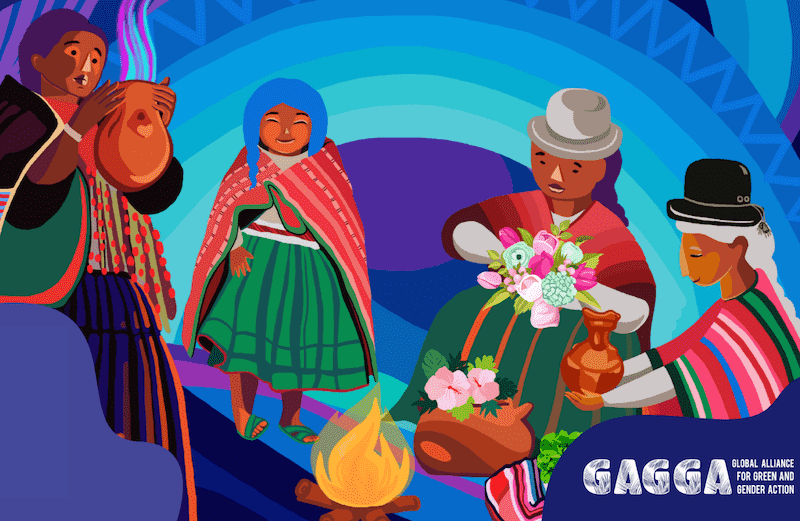 ---
"Let's exchange products, seeds, services. We can take care of a neighbor's elderly relative for a while, or her child, so that she can go out to do another activity in solidarity… Let's not fall into that logic of confinement and isolation. Because that will not help us to remedy a crisis — on the contrary, it will make it worse. "

   — Betty Vásquez Rivera, Movimiento Ambientalistas Santabarbarense – Honduras
---
Women environmental defenders have been planting the seeds for a better future that prioritizes the wellbeing of all people and the planet over profit, fighting for their rights to defend our environment and the sustainability of life. Now more than ever in the face of COVID-19, there is an urgent need to support their struggles; if the protection of their human rights isn't prioritized, we are putting our movements and opportunities to create positive systems change at risk.
In more than 60 audio recordings, GAGGA partners in Latin America, Asia and Africa shared similar challenges of repression, exclusion, violence and food insecurity exacerbated by the pandemic. As businesses shut their doors and daily wages disappear, COVID-19 is highlighting that the dominant model of economic growth is just not working for everyone. Click play on the 12-minute audio and listen to the innovative and collective alternatives women environmental defenders are proposing, how they're putting self and collective care into practice, and giving a new significance to the word "community" (translated subtitles provided).
You can also read a message on these audio stories from the executive directors of GAGGA's alliance members here, and listen to our partners and allies speak about food sovereignty, human rights and other topics below:
The illustration used in this audio was designed by Norka @knorke_leaf.
Learn more about the partners featured in the podcast
*Partners are listed in order of appearance. 
Dorcas, Kebetkache Women's Development and Resource Centre, Nigeria
Precious Dapaah Opoku, Media Coalition for Environmental Promotion, Ghana
Lucy Annor, Tano Women Empowerment and Development Association, Ghana
Riska Darmawanti, Ecological Observation and Wetlands Conservation, Indonesia
Lely Khairnur, Gemawan, Indonesia
Angela, Avu Lagoon Women Development Organisation, Ghana
Bhanu Kalluri, Dhaatri Trust, India
Alice Ndlovu, Muonde Trust, Zimbabwe
Carmen Aliaga, Colectivo CASA, Bolivia
Yoseling Guardado, Colectiva Feminista para el Desarrollo Local, El Salvador
Unicer Martínez, Asociación de Comités Ecológicos del Sur de Honduras
Betty Vásquez Rivera, Movimiento Ambientalistas Santabarbarense Honduras
Vicenta Calizaya, Red Nacional de Mujeres en Defensa de la Madre Tierra de Bolivia
If you want to learn more about GAGGA and our partners' work, you can subscribe to our newsletter and follow us on Twitter. Thanks for listening and stay safe!
---
Subscribe to our newsletter
Sign up and keep up to date with our network's collective fight for a gender and environmentally just world.