Lumière Synergie pour le Développement (LSD, Sénégal)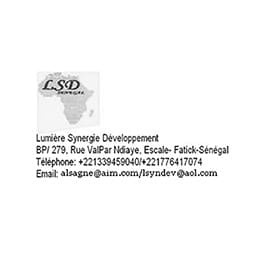 ---
Actor: NGO | Region: Africa
Lumière Synergie pour le Développement (LSD, Senegal) is a non-profit association registered under Senegalese law, established on the 10th of July, 2008. Its creation coincided with a crucial moment in international development financing: the review of the OECD Guidelines as well as the access to information policies of the World Bank and the African Development Bank.
LSD's global objective is to "focus its efforts on the development of a strong and dynamic civil society for the sustainable political, economic and social development of Senegal". Its vision is based on the conviction that good governance and transparency in resource management establishes alternatives that work towards a more peaceful and just world. Today LSD conducts research on development projects that negatively affect human rights (and the environment), supports communities affected by development projects and organizes capacity strengthening workshops for civil society organizations in Africa on transparency and accountability policies of International Financial Institutions.
Facebook: https://www.facebook.com/LumiereSynergieDeveloppemnt/
Twitter: https://twitter.com/LSyndev
---
Subscribe to our newsletter
Sign up and keep up to date with our network's collective fight for a gender and environmentally just world.