Women leading climate action
---
The climate crisis is a global challenge that demands transformational change; structural shifts in the predominant economic system based on extraction and unlimited growth, towards a society that prioritizes the planet and all its people. To get there and achieve genuine transformation, we need to bring together the power of people and their movements.
Since 2016, GAGGA has set out to strengthen and link women's rights, environmental and climate justice movements to pursue collaborative lobby and advocacy work at local, national, regional, and global levels. Through our work, we have been able to put resources into the hands of those who have enormous potential to change their and their communities' situations.
The women and organizations we work with have shown that responses to climate change will only be effective if they are tailored to local realities and support the leadership, ambitions and needs of women; are led by the communities and movements; and concurrently challenge and dismantle systems of patriarchy, capitalism, racism and neocolonialism.
Together, these powerful women-led movements have been able to effectively pressure governments, investors, and donors to act to prevent and avert the worst effects of the climate crisis and to support viable women-led climate approaches. In this newsletter, we highlight some of these actions and advocacy efforts that are supported by GAGGA.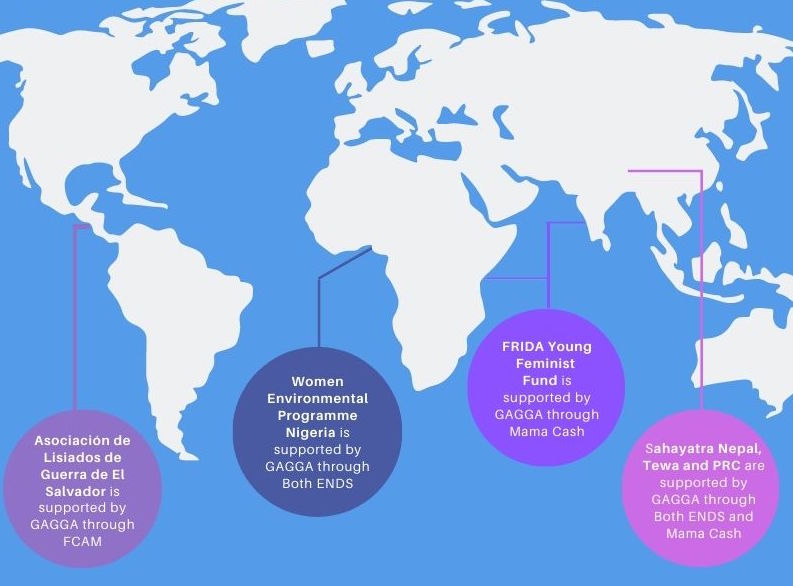 In Central America's Dry Corridor where crops have been decimated and where it's traditionally believed that only men can apply crop science, war-disabled women are switching established gender roles and growing their own climate-resilient food. Women's groups in Nepal are influencing their local authorities to rethink their idea of development and incorporate climate and gender perspectives in their own planning.
In Nigeria, women contributed to the development of the recently approved National Action Plan on Gender and Climate, and are working to operationalize it in their local communities. And across the Global South, young feminists are sharing crucial proposals on approaching the climate crisis, from community-based solutions and shifts in resourcing from healing work and promoting inclusive narratives. These women-led climate actions and proposals should be recognized and supported, and taken as a basis for climate policies and programs in which women play a key decision-making role.
The combined pandemic and climate crises have revealed the resilience, strength and creativity of local women's leadership. World leaders have put forward a wide range of proposed technical solutions to the climate crisis, but if they fail to integrate local women's crucial practices and knowledge on climate change resilience strategies, they are only cracking the surface.
Above featured photo is by ALGES.
---
Subscribe to our newsletter
Sign up and keep up to date with our network's collective fight for a gender and environmentally just world.