Nepalese women lead advocacy for climate and gender justice
---
Story highlights
With GAGGA's support, a women's fund and environmental justice NGO held trainings in Nepal to build the knowledge and skills of women to advocate for local climate and gender-responsive policies and programs.

The community-based organization Sahayatra Nepal attended the trainings and along with other women-led groups, demanded funding from their local governments for local climate change and environmental projects.

Sahayatra is using the funds to provide water for Dalit and indigenous communities, plant trees and conserve a wetland area that's drying up.

Some municipalities in Nepal are now addressing gender, climate change and environmental issues in their own programs.
________________________________________________________________________________
Nepal's Ilam District is synonymous with tea. Bordering India's more famous tea-producing hill station Darjeeling, the sloping tea gardens of eastern Nepal have experienced rising pest infections and severe rain during the last year. As short bursts of intense rainfall waterlog fields and cause defects in plants, higher temperatures have created favorable conditions for pests to breed and insects to arrive from colder areas. These effects of climate change, along with the pandemic, have led to low yields and diluted quality of tea for Ilam's plantations.
Nepal ranks in the top 20 countries that have suffered the most from the impacts of climate change, through floods, landslides, drought and other climate-induced disasters. This has driven many men to migrate internationally in search of work, leaving women as default stewards of natural resources like water and firewood which have been harder to come by due to the changing climate. In a country where 65 percent of the population completely depends on agriculture, women are often the primary force in contributing to this sector and are hit hard when their crops fail and they can't provide food for their families.
Tewa, a women's fund in Nepal and GAGGA partner, had been providing humanitarian relief to women in the aftermath of natural disasters and realized the need to raise awareness among their grantee partners on the intersection of women's rights and climate justice. To do this, they partnered with Prakriti Resources Centre (PRC), a long-term Nepali partner of Both ENDS and NGO specializing in climate policy and finance. With the support of GAGGA, they held a series of trainings aimed at building the knowledge and skills of community-based women to advocate for climate and gender-responsive policies and programs.
Water access for Dalit women
Dotted among Ilam's tea bushes are Dalit and indigenous people working as daily wage laborers and living on the periphery of the tea plantations. In Nepal, Dalit women are at the bottom of the caste, gender and class hierarchy, bearing the brunt of discrimination and violence that are experienced with each identity.
Historically, Dalit women have always carried out agricultural work and domestic labor for higher caste landowners. They are highly dependent on natural resources and, therefore, are heavily impacted by the effects of climate change.
In Ilam, Dalits are barred from using community water taps. Instead Dalit women and girls, who are responsible for household work, are forced to frequently travel one hour downhill to fetch water from a spring. Compounding this are the impacts of climate change which are making water scarcity even worse for these communities as high temperatures dry out soil and cause water shortages, drying out their natural water springs.
"Though water access lies under Ilam Municipality, local authorities aren't paying attention to the issues of these Dalit communities because the government leased this area to an Indian tea company for 50 years," said Hem Kumari Siwa, the president of the NGO Sahayatra Nepal. "The municipality also doesn't provide drinking water taps to landless people. So they ignore the issues of that area. In Nepali, we have a proverb to describe this: 'the shadow below the light.'"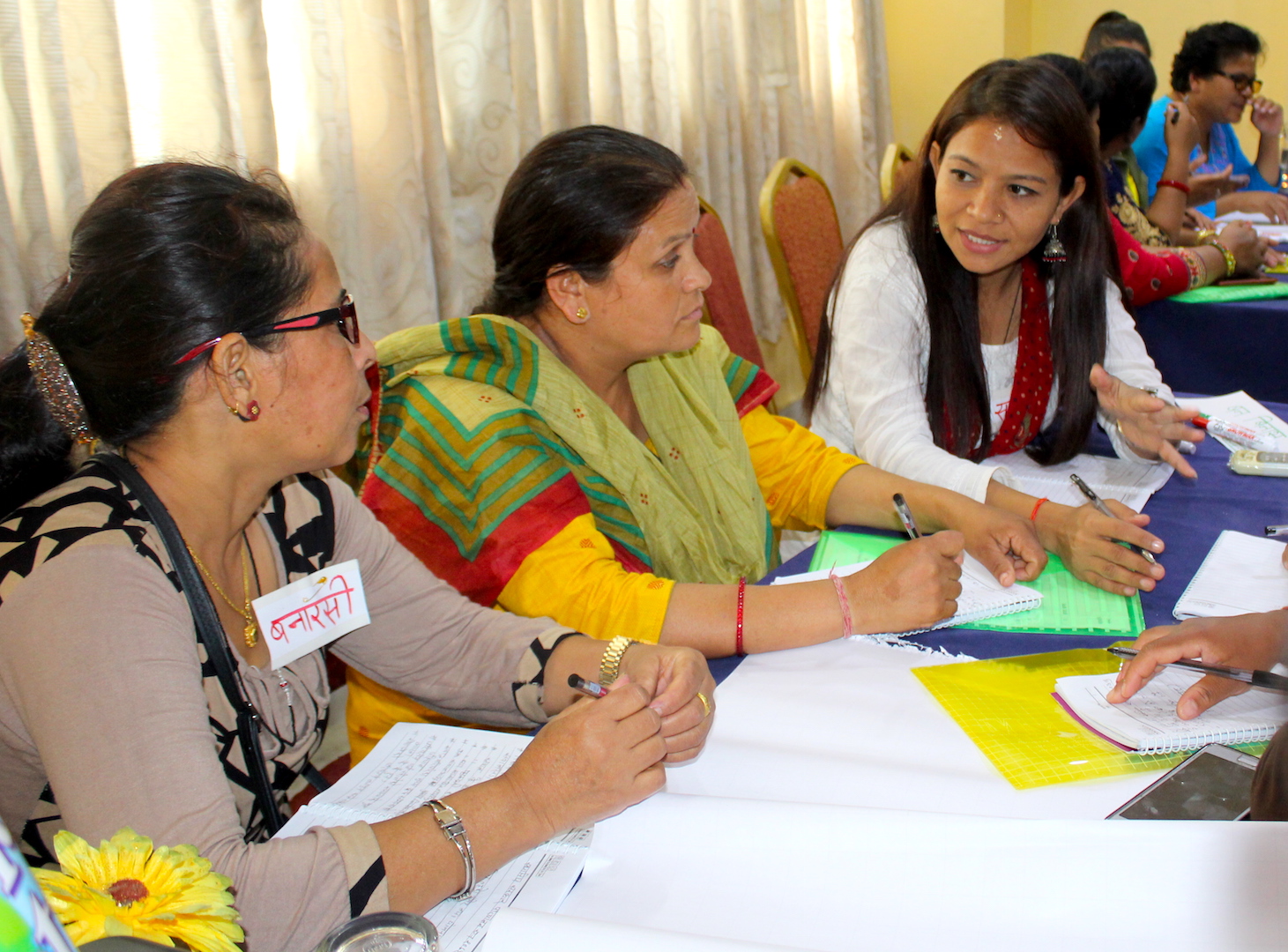 Learning to influence government budget and planning
Sahayatra Nepal is a women-led non-profit that was established seven years ago in Ilam to support women, children and people with disabilities on issues of health, water and environmental conservation. Sahayatra and other local women's organizations came from municipalities across Nepal to attend PRC and Tewa's trainings. They learned about the impacts of climate change and how they're linked to women's rights, developed skills to advocate for funding from local authorities, and understood at what point they can best influence the government climate budget and planning.
They learned that to manage its response to climate change, the government of Nepal put in place several laws, guidelines and important policy reforms, and increased their climate change budget almost 6.5 times since 2014. These reforms outline the management of climate-related public funds and the integration of climate change in planning and budgeting across the different sectors in order to make development programs climate-responsive. More than a third of the climate change budget is allocated to the local and provincial governments, and five percent of the municipal budget is allocated for local climate and environmental projects. According to PRC, this amount is rarely spent.
During the training, the women's organizations discussed the challenges they face when engaging with local government. In Nepal's patriarchal society, women's groups are often ignored if they don't have political backing and have little or no opportunities to participate in decision-making processes. Other obstacles include the lack of access to information, the low number of women in political parties, government nepotism and favoritism, the view that women's issues are not a priority, and the tendency for municipalities to avoid public consultations in their planning. Climate change is also a very new topic for most local authorities.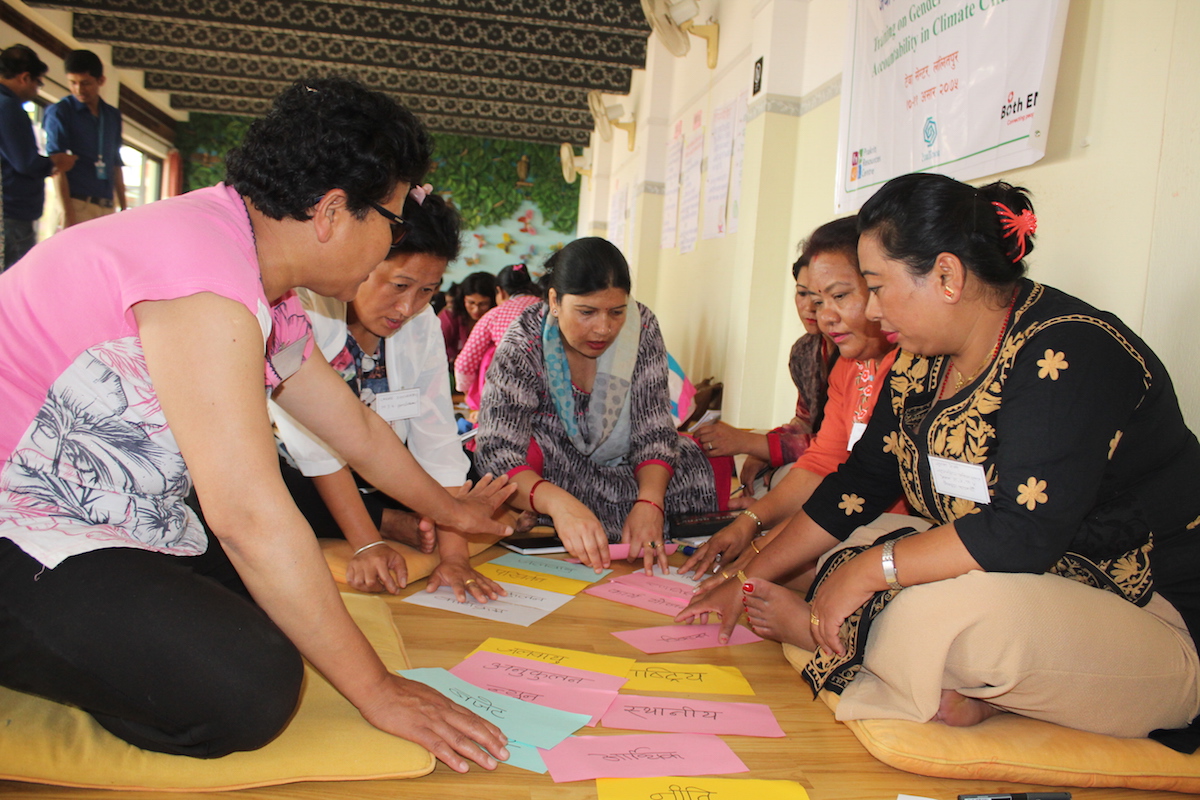 Advocating for climate and gender-responsive programs
In recognition of this, PRC developed dedicated trainings for mayors and officials to change their perception and raise their awareness of the national climate policy and budget, and to incorporate gender perspectives in their own planning. This was the turning point for many of the women's groups Tewa and PRC supported.
Each group put their learning into practice by developing proposals they would submit to their local authorities. When some of the women's groups returned to their communities and initiated dialogues with their municipal government, they received funding from the municipality for projects on disaster preparedness, waste management, river conservation and organic farming.
When Hem Kumari Siwa realized her local authorities didn't know about the budget allocation for climate work, she organized a series of dialogues with the support of Tewa to discuss access to drinking water for Dalit communities. Afterwards, the authorities provided Sahayatra Nepal with funds to maintain the water spring that 70 households from the Dalit and indigenous communities rely on.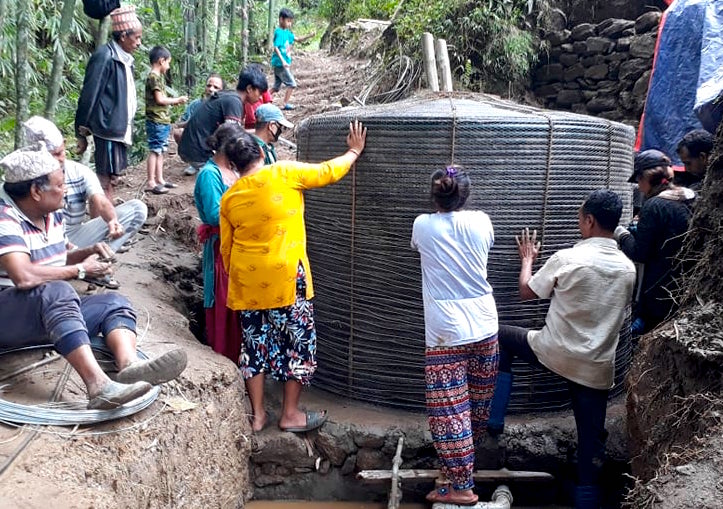 Investing in local climate justice projects
Sahayatra Nepal is also working with local government on providing 10 household water taps for 82 people, planting trees and conserving a wetland in their district which is drying up. They are involving women from the community at each and every stage of these projects, from household surveys to planning. On the wetland conservation project, Sahayatra Nepal plans to revive and incorporate the indigenous knowledge that local communities have gathered for many years so it can be transferred to the next generation and help shift ownership of the project to the community.
"The government didn't allocate any money to environment issues before we engaged with them," said Hem Kumari Siwa. "Development to them just meant investing in infrastructure. Now the government and community realize development projects should go side by side with climate change and environmental issues. Different municipalities are allocating from 1 to 5 lakh [around 845 to 4,226 USD] for environmental issues, and they've included water spring conservation in their own program."
Sahayatra Nepal recently received support from GAGGA's Autonomy and Resilience Fund*, and plans to provide drinking water taps to another 20 households in the Dalit community. They will train these communities on collecting and using waste water in their vegetable gardens so they will have access to nutritious food and can sell the remaining harvest at the market to earn an income.
______________________________________________________
You can learn more about Sahayatra Nepal's work on their Facebook page and website.
Click here to read more about the work and collaboration of Tewa and PRC, including their role in contributing to the formulation of Nepal's 2019 National Climate Change Policy. You can also find resources on climate change and gender in Nepal here.
*The GAGGA Autonomy and Resilience Fund was set up to support the urgent needs of women environmental defenders and their communities during the pandemic, aimed at strengthening actions that build their community-driven systems of resilience and autonomy. It was made available to current and past grassroots grantees of partner women's and environmental funds, as well as current GAGGA-supported NGOs and received applications on a rolling basis until July 15th, 2020.
Above featured image is from Tewa.
---
Subscribe to our newsletter
Sign up and keep up to date with our network's collective fight for a gender and environmentally just world.