Executive summary: GAGGA's impact 2016-2019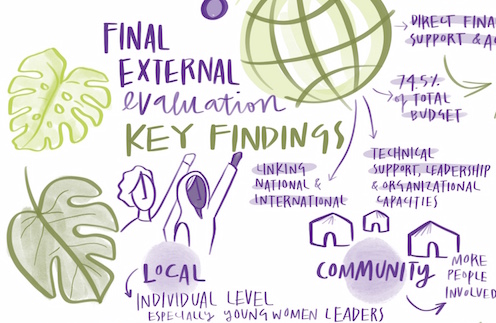 ---
Between January and October 2020, GAGGA conducted a final external evaluation to assess its impact, key outcomes and performance in its first four years of implementation. Below are some of the key findings:
74.5 percent of GAGGA's total budget was directly allocated to support grassroots groups, funds and NGOs working on women's rights and environmental justice.
Between 2016 and 2019, GAGGA partners transferred 1,189 grants to grassroots groups in 30 countries in Africa, Eurasia and Latin America, totaling EUR 8 million.
GAGGA was effective in strengthening funds and NGOs' capacities to support the lobby and advocacy work of grassroots groups, who in turn, greatly improved their capacity to advocate for themselves at this intersection.
Donors, international financial institutions and decision makers at local, national and international levels were successfully influenced to become more responsive to women's rights and environmental justice.
You can read the executive summary of the report in English, Spanish and French. It's also available in Georgian, Nepali, Portuguese, Hindi, Bahasa Indonesia, Tagalog and Mongolian.
If you'd like to read the full report or the executive summary in one of the above languages, please send us an email at gaggacommunication@fcmujeres.org.
---
Subscribe to our newsletter
Sign up and keep up to date with our network's collective fight for a gender and environmentally just world.