Women in Central Java demand end to mud pollution from geothermal exploration
---
In November 2016, communities living on the foot of a volcano in Central Java, Indonesia, were surprised to find that the water of their main river had turned muddy. For the villages of Mount Slamet, the Prukut River is the main source of their water and livelihood; its water springs and streams allow the community to earn their income from fish and silk-worm breeding, farming and tofu production.   
Only after investigating and questioning village officers did the community find the cause of the mucky water: mud and debris from a forested land that had been cleared to make way for a planned geothermal power plant on the southern slopes of Mount Slamet. They discovered that a company called PT Sejahtera Alam Energy (PT.SAE), a subsidiary of one of Germany's largest electricity generators, had been cutting down trees and drilling for geothermal energy exploration without the local communities' consultation, involvement and prior consent.
As Indonesia's government strives to achieve 6-7 percent economic growth through developing infrastructure, especially electricity, geothermal energy has become an attractive low carbon option that has been promoted by the World Bank, Asian Development Bank and the Green Climate Fund. Because of its volcanic activity, Indonesia has 40 percent of the world's total geothermal reserves and the government has made geothermal energy a key part of its plan to source 23 percent of its power from renewable energy by 2025. It has done this through a policy roadmap and legislation which allow investors and corporations to explore geothermal energy potential in protected forest areas. 
In a statement, the geothermal plant on Mount Slamet said its project would bring prosperity to people in the surrounding area. Instead, three years on, the construction of geothermal infrastructure and exploration activities have decreased incomes and destroyed livelihoods; the muddy waters have killed the fish and silk worms that the communities depend on and made it impossible for women to produce tofu to sell. Many local people were forced to take lower income jobs and borrow from loan sharks.
The household burden on women became heavier. They were forced to look for alternative water sources by fetching water from springs further away, collecting rainwater and buying expensive gallon jugs of water if they could afford it. Fetching water meant walking for half an hour, waiting in line for hours and walking back and forth carrying gallons of water through steep, rocky and wet earthen paths. They did all this in between normal household chores and earning a living.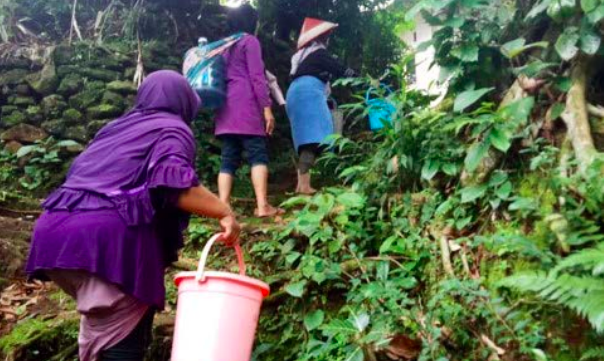 Many women joined demonstrations to call for the termination of the geothermal project, request compensation for their loss, and demand PT SAE and the government provide sufficient clean water. The local government responded by providing water tanks which were insufficient; Women had to wait a long time for the tanks to be filled, fight for water and sometimes return home empty-handed. The compensation process was also not transparent and not all residents were aware of or received compensation.  
Even before work began on the plant, the Mount Slamet area already faced environmental degradation due to land conversion and deforestation. Data from the local environment and forestry department shows that about 1,321 water springs were lost between 2001-2011, and local groups say that the plant would worsen this situation as well as cause landslides and severe flooding.
Up until today, the women and their communities are demanding the company stop the extraction of geothermal energy, cease clearing forest on Mount Slamet, and rehabilitate the springs and rivers. They call on the local and national government to enforce already existing legislation against environmental perpetrators, disclose information and consult with them about projects that come to their areas, and approach the approval of project permits with caution by considering the environmental and socio-economic impact on communities living in the targeted areas.
GAGGA partner Aksi! for gender, social and ecological justice compiled testimonies from more than 50 women on how they've been negatively impacted by geothermal, hydropower and wind farm projects across Indonesia through Feminist Participatory Action Research on Women and Energy Program that was conducted from February to September 2020. You can read these stories here.
Illustration by @vidushiy. 
---
Subscribe to our newsletter
Sign up and keep up to date with our network's collective fight for a gender and environmentally just world.