July 2023 Newsletter | Linking and Learning: Uniting for Feminist Climate Solutions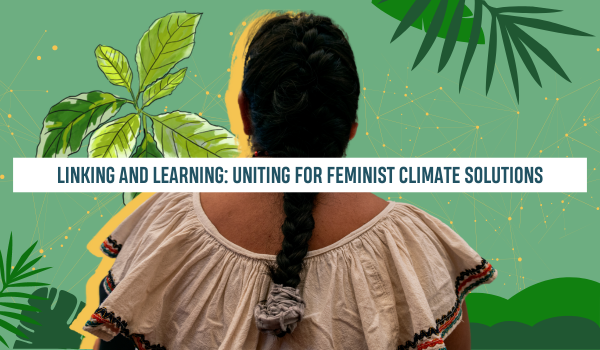 ---
In a world where urgent environmental challenges demand our attention, the call for feminist solutions resonates more powerfully than ever before. At GAGGA, we firmly believe that climate and environmental justice are inseparable from the fight for gender justice. Our mission revolves around forging connections and fostering collaboration among diverse movements and organizations. Today, we invite you to embark on a journey through the heart of our Linking and Learning activities, highlighting stories that exemplify the power of cross-movement learning, solidarity, amplifying messages and joining forces in our collective pursuit of gender-just climate solutions.
For us, Linking and Learning is not merely a strategy—it's a transformative approach to amplifying local women, intersex, non-binary, and trans people's leadership, resilience, and advocacy capacities. By building bridges between climate activists, environmental justice advocates, and defenders of women's rights, we weave a vibrant tapestry of expertise, skills, and strategies. Through purposeful collaboration, we amplify our collective knowledge, harness our combined strength, and push boundaries to effect meaningful change.
Throughout the year, we support various regional Linking and Learning initiatives by the GAGGA network. These activities span over a broad spectrum – capacity building, skillsharing, round tables and more. One of the very recent examples of our Linking and Learning funding initiative is the "Boosting Capacity and Engagement of Latin-American GAGGA partners on climate finance and the Green Climate Fund (GCF)" event organized by Both ENDS, Casa Socio-Environmental Fund, and the Inter-American Association for Environmental Defense (AIDA) in Rio de Janeiro, Brazil, between 21 – 22 June. The objective of the event was to have participants gain a better understanding of the GCF's context and of climate finance in Latin-American countries, strengthening the regional network on climate finance in the region, enabling a more effective monitoring of GCF activities.
Another event that exemplifies the spirit of our Linking and Learning activities is the second African People's Counter COP organized by the Africa Climate Justice Collective. Held last October, this critical space provided movements and allied organizations with an opportunity to engage in dialogue and propose real solutions to climate justice. The Counter COP shed light on the pressing needs of African communities, particularly peasant women farmers, amidst the escalating climate crisis. It covered a wide range of topics, including false solutions, peasant agroecology, climate debt, fossil fuels, energy poverty, and corporate impunity. It served as a platform for sharing experiences and building solidarity, paving the way for genuine climate justice in Africa. GAGGA partners WoMin and Kebetkatche Women Development and Resource Centre, based in Nigeria, took part in the Counter COP initiative by organizing the inaugural Women's Climate Assembly. Bringing together more than 200 women from the Niger Delta region and 14 countries across West and Central Africa, the Assembly featured a session on climate debt and reparations. During this session, women activists shared their firsthand experiences of the climate crisis and emphasized the significance of climate debt as a vital mechanism for achieving climate justice within their communities.
The Women in Action Against Mining in Asia (WAMA) platform, supported and co-coordinated by GAGGA partner Non-Timber Forest Products Exchange Programme (NTFP-EP) Asia, serves as a catalyst for sharing and learning in the region. WAMA collaborates with civil society organizations and women's groups to promote regional exchange on women's climate action, capacity strengthening, campaigns, advocacy, and community-based research. Through virtual skill-shares, biodiversity mapping, and capacity building, WAMA members are actively engaged in the fight against destructive mining practices, demanding accountability and transparency from governments and other stakeholders.
In Central America, a knowledge exchange convened by Fondo Centroamericano de Mujeres (FCAM), Fondo Tierra Viva, and AIDA brought together women's organizations from Guatemala, Honduras, Nicaragua, and El Salvador. This gathering provided a space to deepen understanding of the intersection between climate change and women's rights. Participants shared stories of struggle for territories and women's rights, shedding light on the region's vulnerability to climate change. Through an interactive map, they showcased the feminist and decolonial nature of the fight for climate justice.
These stories illustrate the power of linking and learning in our pursuit of gender-just climate solutions. By connecting diverse movements, sharing experiences, and fostering collaboration, we create a robust network that is greater than the sum of its parts. Through empathy, inclusivity, and community care, we forge a path towards a more just and sustainable future.
At GAGGA, our Linking and Learning activities serve as a transformative force, amplifying voices, and fostering solidarity. We remain dedicated to strengthening connections, supporting women, and advocating for a world where climate and gender justice are intertwined.
---
Subscribe to our newsletter
Sign up and keep up to date with our network's collective fight for a gender and environmentally just world.